Where It All Began
Bob's Turkey Farm is a family owned and operated business. Robert Van Hoof started this business in 1954 with the hopes of providing an honest living for his family. A father of 7, Bob worked tirelessly to make his dreams come true and built the foundation of what is now a multi-generational farm. Bob put his life into the farm and enjoyed every minute of it. He was always immersed in the daily work around the farm and was as involved as his body would allow until we tragically lost him in the spring of 2018. Bob was a pillar in both his family and the community around him. His legacy lives on through two of his children who operate the farm these days and numerous grandchildren who work on the farm.
A Family Affair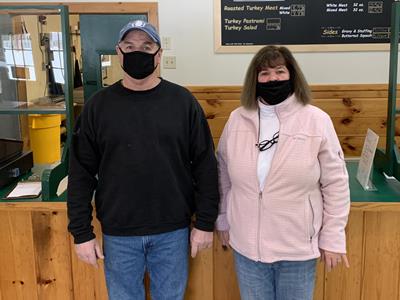 Richard Van Hoof, Bob's son, is responsible for the breeding, hatching and raising of the turkeys. Richard worked alongside Bob starting in his childhood all the way into adulthood. He is responsible for the well-being of all the birds on the farm and takes great pride in what he does on a daily basis. Susan Miner, Bob's daughter, is responsible for the retail part of the business as well as bookkeeping. Susan can often be seen around the farm store, in the kitchen and helping customers from time to time. Bob's daughter, Marybeth, ran the kitchen starting in the 80's and continued to run it until her passing in 2017. Marybeth had the kindest of souls and a smile that those who met her will never forget. Although she is not here in person her spirit is felt everyday around the farm and her nephew Casey, now works in her place. Casey Macgregor, Bob's grandson now manages the kitchen and brings with him a passion for what he does. Multiple other children, grandchildren and great grandchildren of Bob can be found working on the farm throughout the year, each with their own love and passion for the farm and its roots.
More Than Family
The Van Hoof family is an incredible, tight knit, loving and dedicated family. We take pride in being a multi-generational farm but we could not do it without the help of our incredible staff! Although they may not be blood, they are family all the same. We love all of our staff here at Bob's. They are incredible individuals whose hard work is reflected in the very products you serve at your table. Six days a week they work together to keep the ovens going in order to produce the products that we all know and love. Without our dedicated staff we simply could not do what we do!
Turkey Talk
Our turkeys are a broad breasted white turkey originating in Andover MA. We breed, raise, and process all of our own turkeys here in Lancaster.  All of our turkeys are fed a well balanced grain diet. This diet does not contain any antibiotics or hormones, instead we have opted for a mix of vitamins and supplements to help support healthy growth and development.  In addition to grain, our turkeys spend as much time as possible outdoors, feeding off the pasture and consuming what grows around them. This makes for a healthy and diverse diet that is reflected in the products we offer.